Crowwing County — Children's gardens at Northland Botanic Gardens in Crowwing County are bursting with rainbow vegetables like red cabbage, scarlet okra and brown-skinned onions. The preteens and teenagers who care for it are learning where the food comes from and how good fresh produce tastes.
But that is not the only reason for this beautiful grace. They nurture the garden under the guidance of master gardener Sally Jacobsen. Jacobsen not only eats the vegetables, he uses them to make dyes for his textiles art.
"It's a great creative outlet," she said. "It's less about making a masterpiece or turning it into a business, it's more like, 'I want to try this and see if it works.'"
Jacobsen first became interested in textile arts more than 30 years ago when he took a class at the Weavers Guild. When her kids came over, it became the backseat. And a few years ago, she began combining weaving and gardening by experimenting with making dyes from plants. Wild grapes in her backyard provided the basis for the purple fabric she could weave into projects.Black walnut shells produced a rich brown color.
"A lot of it is being tested," she said. "I tried dandelions and didn't like the results, so I threw them away."
Following in the footsteps of her brothers Bill Turcotte and Jackie Barkey, Jacobsen became a Volunteer Extension Master Gardener at the University of Minnesota in 2020. Last summer, I was finally able to lead a children's gardening program at the arboretum. During her growing season, her 10 or so children joined her each week to dig a plot of her garden, plant seeds, pull weeds, and harvest vegetables.
"Teaching children the basics of gardening and the garden produces many good crops," she said. In addition to the kids' favorites, kale and broccoli, believe it or not, the plot was overflowing with lemon cucumber, bok choy, purple peas, mouse melon, and more. Art became the basis for her projects and lunches. Jacobsen showed her garden mates how to infuse natural fibers like wool and cotton with summery colours.
In addition to dyeing yarn using plants grown in our home garden, we took the kids to the arboretum and experimented with collecting phlox, goldenrod, cornflowers and other colorful flowers. She also showcased her pounding of flowers, in which she places bright flowers between two pieces of muslin and hits them with a hammer to transfer color to the fabric.
Candice Zimmermann, Executive Director of the Northland Arboretum, said that Jacobsen and many of the Extension's other master gardener volunteers have spoken well of the value of helping beautify the arboretum and sharing their love of plants with others. You can not. "It's such a great collaboration," she said. "They are on our side. They really make this place beautiful."
Raised by a soil conservationist father and a gardener and cannery mother, Jane Burton has always appreciated the value of connecting with sun, soil and plants. Having taught young children for decades as an elementary school teacher, she knows that children learn in many ways. When the 2nd and 3rd graders working at the school have finished digging, I hand them a book made out of notebook paper and colored pencils to encourage them to reflect. experience.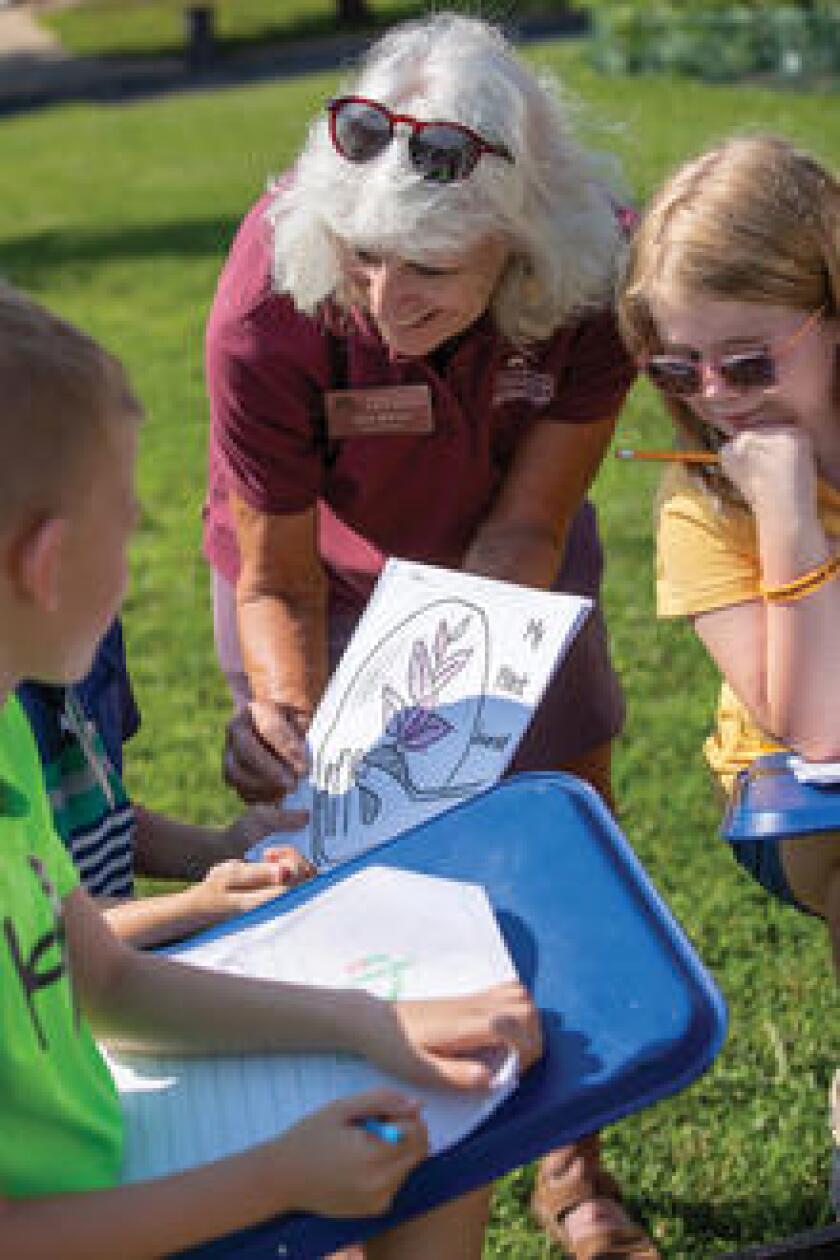 "Some children are very reluctant to express themselves through writing, but they can express themselves better through drawing," says Barton. One student scribbles words quickly, another draws a bright yellow sun shining down on a plant, and a third solves the riddle of rowan growth using diagrams that look like segments of a toy stretching into the sky. I will clarify.
"We do what scientists do: we observe, we write things down, we make notes, we wonder, we make hypotheses about what might happen next," Burton said.
Burton and her volunteer team of Olmsted County Master Gardeners mentor students in after-school and summer care programs at Sunset Terrace Elementary School in Rochester. When they leave the program they take a diary with them and encourage them to keep a diary about gardening and her experiences.
"Seeing it and writing it down greatly enhances understanding," says Barton. "Whatever new concept you're trying to learn, it's really safe."
This article is reprinted with permission from the University of Minnesota Extension.
Contact Allison Sandve, Extension News Media Manager, at: ajsandve@umn.edu, 612-626-4077 (office) or 651-492-0811 (mobile). Contact Extension Communications: extnews@umn.edu.