A new location for Utica Square Olive Garden is under construction on the southeast corner of the shopping center at 21st Street and Utica Avenue.
A building permit for the new location has been applied for.
Olive Garden opened its second Tulsa store in Utica Square in 1991, replacing Furr's Cafeteria.
The city's first Olive Garden, located at 7019 S. Memorial Drive, opened a few months ago and is still in operation. The chain also has stores in Broken His Arrow, Catoosa and Owasso.
A representative for Darden Restaurants, which owns Olive Garden and owns several other national and regional chain restaurants, including Longhorn Steakhouse and Cheddars, responded to inquiries from Tulsa World regarding the new Olive Garden location. did not respond.
The newest Dunkin' opens on January 26th
Dunkin' newest store at 6981 S. Lewis Avenue will have its grand opening on Thursday, January 26th. The activity will start at 6am and the first 100 guests will get a free cup of coffee for his whole year. If you don't want to arrive early in the morning, a complimentary medium-sized hot or iced coffee is available all day on Thursday.
A ribbon-cutting ceremony will take place at 8:45 a.m. with a donation of $1,000 to the Salvation Army Boys and Girls Clubs from franchise owners Lagunita Franchise Operations.
Built according to the chain's new design, the 1,800-square-foot restaurant will seat 16 patrons and employ a crew of 30.The store is open daily from 5am to 9pm
Lagunita Franchise Operations currently owns and operates 32 Dunkin' stores in Oklahoma, Alabama, Arkansas, Louisiana, Mississippi and New Mexico.
Gambill's serves Tex-Mex take-out meals
Located at 1921 S. Harvard Avenue, Gambill's Pastaria offers what it calls "The First Taste of Gambill's Tex-Mex Barbecue" with a special MexiQue Family Meal Pickup.
A complete heat-and-eat meal that can feed six to eight people includes three-quarters of a pound each of smoked pork, beef brisket, and chicken. 1 quart each of verde rice and smoked ruffled beans. 6 corn and 6 flour tortillas. 8 oz each of smoked red salsa and smoked green salsa. 4 ounces each of mild and spicy barbecue sauce. 2 ounces hot sauce; 8 ounces "mexilelish"; tortilla chips; onions; coriander; and lime slices.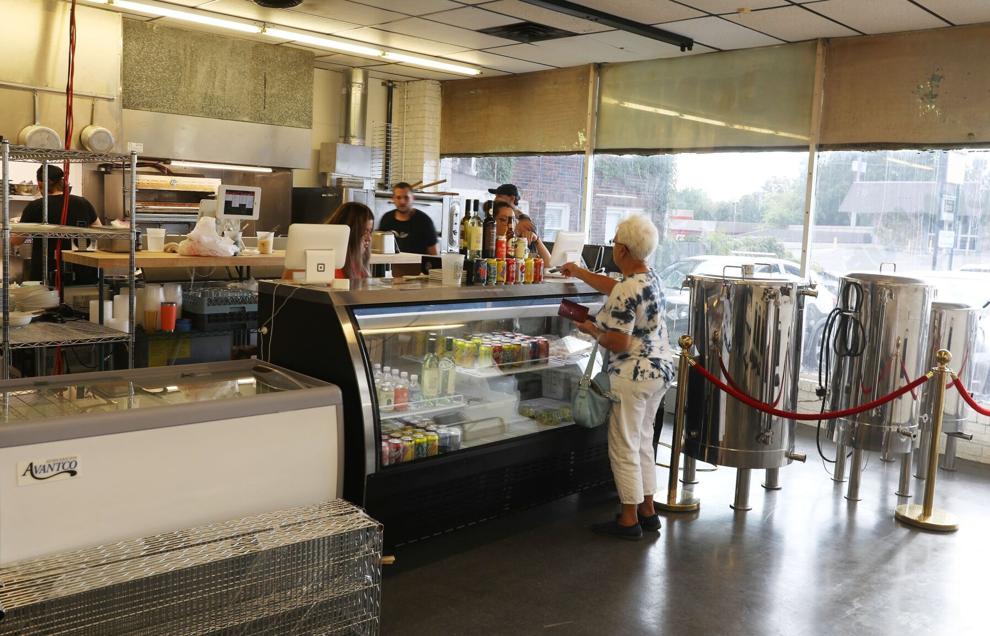 All items are made in house. A meal costs $80. Reservations are required and must be made by Friday, January 27th. Pickup is Tuesday, January 31st. To order, visit tulsapasta.com.
Gambill's Tex-Mex Barbecue is the latest concept from Hunter Stone Gambill. Hunter Stone Gambill is also preparing to open Gambill's Taco Bar & Brewery on E. Seventh St. 1724 this spring.
Ice cream for breakfast at BA's Rose Rock
The Broken Arrow location of Rose Rock Microcreamery at 115 N. Main Street in the Rose District will celebrate National Ice Cream as Breakfast Day on Saturday, February 4th from 9am to noon.
The pancake sundae sold in the store is topped with caramel or chocolate sauce, whipped cream, and cherries. Sundaes are $6 each. A regular menu of frozen sweets is also available.
Plus, guests have a chance to win prizes such as ice cream sandwiches for the student's class (limit 35), $20 Rose Rock Microcreamery gift cards, t-shirts, and more. roserockmicrocreamery.com.
New menu at Metro Diner
Metro Diner (7474 S. Olympia Ave.) is a way to break New Year's resolutions to eat healthily to the curb with the new Metro Cristo sandwich, which features turkey, ham, melty cheddar and American cheese sandwiched between two fried jellies offers. – Donuts topped with powdered sugar.
For a limited time, the chain restaurant is also offering scrambled bowls with toppings based on hash brown potatoes.
The carnitas bowl features marinated pork, scrambled eggs, green peppers, onions, tomatoes, jalapeño hollandaise sauce and sour cream, while the avocado bacon bowl features roasted bacon, eggs, avocado, and grape tomatoes.
The Southwestern version has avocado, black beans, corn, diced peppers, jalapeño peppers, onions, tomatoes, and scrambled eggs, while the Steak & Scramble Bowl has seasoned sirloin steak, scrambled eggs, and roasted grape tomatoes. .
Specials are available until February 22nd.
james.watts@tulsaworld.com